WordPress as an eCommerce Platform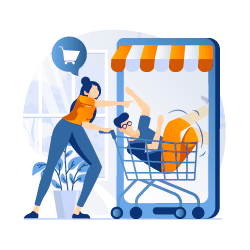 Although WordPress is theoretically a blogging platform, it has the potential to be applied as an e-commerce platform that meets your marketing and sales objectives. This content management system is therefore ideal for small business owners within the Tampa Bay Area, who want to expand their brand online with a blog or a website. This service is also ideal for business owners who plan to update their content regularly. The two leading advantages of WordPress for these businesses is that it is affordable for small businesses, and its SEO features ensure that small businesses quickly gain a digital footprint.
At Global MCS, we ensure that you benefit from WordPress by helping you create a WordPress website. We do this through WordPress customization, template creation, and theme creation. We also help you choose the most effective and relevant WordPress ecommerce plugins to sell your products. This often includes matching your diverse business needs to WooCommerce, or WP e-Commerce to mention a few.
Our goal at Global MCS is helping you build a better experience for your customers, as you grow. To ensure this feat, we provide experts in PHP and MySQL. This team is for example, able to ensure a functionally rich and easy to use platform, which showcases all your new and old products, and optimally categorizes them for easy access by clients. Using these options, we can also help you showcase your products today, with the additional option of allowing your customers to purchase these products from the website at a later date. This eCommerce web design package also has the option of continued support after web design and web development.
Another key advantage of this content management system is that it has features that make it highly responsive to mobile devices. Any small business must ensure an eCommerce platform that is supported by multiple devices including tablets and smart phones. Global MCS helps you to make your content responsive to mobile phones through the various options provided by WordPress. This ensures that your business meets the needs of its diverse online customers by automatically detecting and loading a compatible mobile theme, allowing users to switch between device-views, providing separate content for mobile device users, or even enabling cross-platform content access.
WordPress as an eCommerce Platform
was last modified:
November 20th, 2023
by